CREATING PENETRATION TESTERS
7 Eagle Group & Cisco Systems team up to turn four Military Veterans into Pen Testers in only six months!
Cisco Systems had a critical need for four Penetration Testers possessing specific skillsets and certifications
Traditional recruiting sources were not producing qualified candidates.
With over 314,000 unfilled Cyber Security jobs, competition for the best candidates was fierce.
Cisco System's Pen Testers must be proficient in a wide variety of software programs including Azure, AWS Cloud, and possess certifications in Security+, Network+, A+, and OSCP.
7 Eagle Group developed a comprehensive 6-month paid internship program that develops Veterans with basic technology backgrounds into skilled and certified Penetration Testers in six months.
We evaluated and presented dozens of military Veterans and Cisco System selected the final four to participate in the internship.
Curriculum included 40-hours/week of cyber training, mentorship, group workshops with prominent industry tech leaders, and Hackathons.
We teamed up with training partners like Range Force and Cybrary to provide a curriculum featuring the exact courses required for the position including Network Vulnerability, Python, Forensics, AWS, Threat Intelligence, and dozens more.
The interns will graduate in October, 2021, as fully qualified Pen Testers with the appropriate certifications.
Cisco Systems will then have the option of hiring all or some of the interns as full-time employees.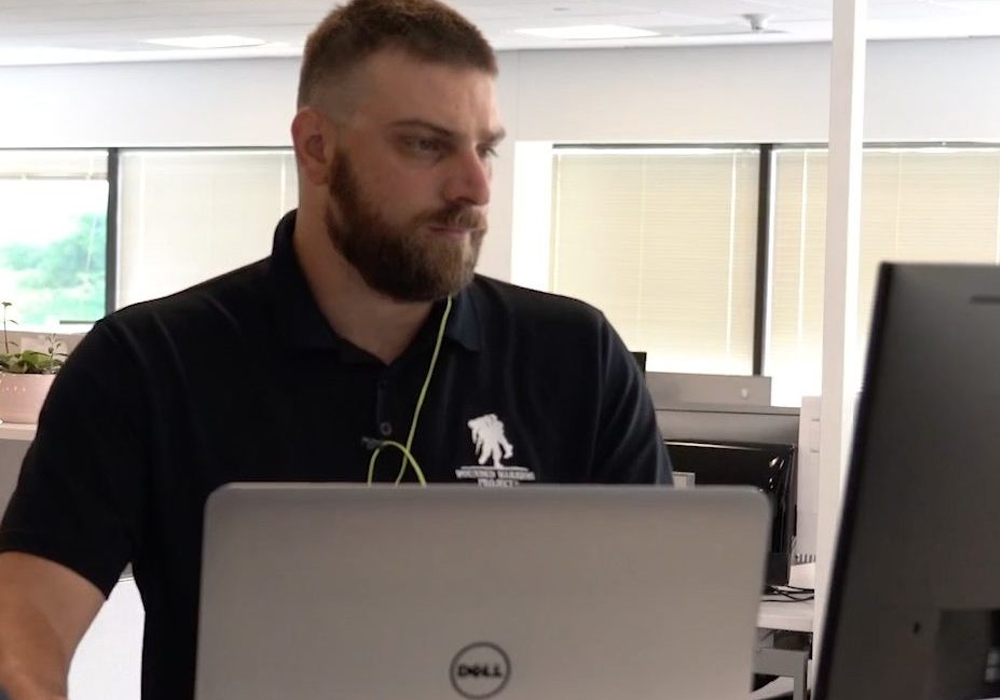 By "manufacturing" their own talent, Cisco Systems avoids competing — and getting in bidding wars — with other companies eager to hire the same few talented professionals.
The interns graduate with the exact skills, experiences, and certifications that Cisco Systems requires saving them time and money.
The new Pen Testers will feel a sense of loyalty to Cisco Systems and be much more likely to remain as long-term employees.
Cisco Systems has truly made an enormous life-changing impact in four of our country's heroes who will be on track to earn six-figure salaries in only six months.
TALENTED MAINTENANCE TECH IN JUST 11 DAYS
Just like that, 7 Eagle presented some really talented Vets for a difficult-to-fill position that was vacant for four months. I loved evaluating the videos resumes — made this super easy for our hiring team to select the best ones to interview.
ABOUT THE CLIENT:
The worldwide leader in the package delivery industry today $64B in revenue.
THE MISSION:
The client's internal recruiting team was struggling to find a skilled Maintenance Technician for their Connecticut distribution center. Their local HR manager reached out to 7 Eagle Group for assistance because he needed to quickly fill the vacancy.
THE RESULT:
7 Eagle Group's recruiting team evaluated 49 local maintenance techs and presented three strong candidates. A Navy Veteran was hired for $62,500 and begin work 11 days after we received the search assignment.
3 FIELD SERVICE TECHS FOR AIR COMPRESSOR COMPANY
We partnered with one other recruiting firm and the 7 Eagle team ran circles around them. You guys were quick and listened to exactly what we wanted to see in our ideal technician. Plus you delivered some terrific candidates and the videos made it super easy for us to evaluate them.
ABOUT THE CLIENT:
International air compressor company with 70 locations installing and maintaining large manufacturing machinery for the oil and gas, automotive, and foodservice industries.
THE MISSION:
The client needed three field service maintenance techs in three different southern regions. Candidates were required to possess extensive mechanical/electrical experience, strong communication skills, and the willingness to travel 90%.
THE RESULT:
Within two and a half weeks, we presented nine highly talented and skilled military Veterans. Each averaged over five years of civilian experience. Seven Veterans were interviewed and three (2 Navy and 1 Army) were hired for $74,000 each.
COMPUTER SPECIALIST WITH TOP SECRET CLEARANCE
This was a really challenging assignment…the talent pool for the SME we needed is extremely shallow. Our own team came up short, but 7 Eagle delivered a couple of great candidates who checked all of the boxes. You really nailed it.
Head Recruiter, Defense Contractor
AUDREY P. (Washington, DC)
ABOUT THE CLIENT:
Large defense contractor providing information technology services specializing in U.S. Air Force weapons systems.
THE MISSION:
The client needed a highly skilled Avionics subject matter expert to manage and oversee a top-secret weapons defense system. The client was going on three months trying to fill the position with their own efforts before we got the call. The candidate needed an active Top Secret Clearance designation and to relocate to a remote area of Ohio, making the assignment even more challenging.
THE RESULT:
It took us about four weeks to identify two great candidates who possessed the computer skills and management experience required, plus the willingness to relocate their families. The client decided to hire an information technology specialist who was transitioning out of the Army for $125,000.
GREEN BERET TO LEAD SALES TEAM
Outstanding job! You guys found us the perfect new sales manager — exactly who we wanted to lead our sales team. He's really doing well and bringing in new business for our sports division."
Managing Director, Ad Agency
ABOUT THE CLIENT:
California based advertising company that prints and installs large outdoor billboards and signage in stadiums, concert halls, and municipal buildings.
THE MISSION:
Our assignment was a hard-charging sales manager to service existing account and enroll new ones. The candidate needed to have a hunter mentality, incredible work ethic, and a strong track record of increasing revenue.
THE RESULT:
We focused our recruiting efforts on Veterans who served in the special forces — the men and women whose military training made them ideal sales reps. They have leadership skills, communication skills, confidence, perseverance, and a goal-oriented focus that suits a sales manager well. We presented two candidates and the client hired a 35-year old Army Green Beret for $95,000.
QUALITY CONTROL SUPERVISOR FOR AEROSPACE MANUFACTURER
No doubt we were disappointed when Javier quit unexpectedly. What impressed me so much about 7 Eagle was that you didn't leave us hanging. You honored your guarantee, worked just as hard the second time, and found us an even better QC guy to replace him. Nice work!"
HR Dir., Aerospace Manufacturer
ERIN M. (Springfield, MA)
ABOUT THE CLIENT:
Massachusetts-based manufacturer providing tools and parts to large aerospace companies like Pratt & Whitney, Lockheed Martin, and UTC.
THE MISSION:
The client received a large government contract and quickly needed to add a Quality Control Inspector to their production team.
THE RESULT:
In just 12 days, 7 Eagle Group delivered two strong candidates who possessed extensive QC experience while doing similar work in the military and at a competing manufacturing company. The client hired an Air Force Veteran for $54,500; however three and a half months later, he suddenly quit because his wife needed to move. We sprung into action and within 72 hours, identified a highly qualified replacement who was hired instantly.
I'M INTERESTED IN WINNING
THE WAR FOR TALENT