Our Mission - Help Your Company Win the War for Cyber Security Talent
Why Veterans are great employees
As the CISO at your company, you know more than anyone, how challenging it is to recruit and retain the best tech employees.
7 Eagle Group can deliver skilled Cyber Analysts, Pen Testers, Engineers and other high tech professionals you need to compete in a global economy.
It's a patriotic act and a smart business move to hire a transitioning service member or Veteran.
TRUSTED BY HUNDREDS OF TOP COMPANIES











Available for Immediate Hire
Choose from hundreds of Military Veterans and Transitioning Service Members available right now.  Or, 7 Eagle Group can conduct a custom search to identify the talent you want.
Fill Your Open Positions with Superstars
Describe your ideal candidate, and in just a few days, we'll present a shortlist of pre-qualified candidates eager to work for your company.

Watch Video Intros to quickly evaluate the candidate's personality, communication skills, and enthusiasm to ensure you interview the best candidates.

Choose from three staffing options:
18% Placement Fee due after the new employee starts.
"Pay-As-You-Go" terms eliminates your financial risk and ensures that your new employee stays long-term.
CAREER TRANSITION PROGRAM
In exchange for providing a transitioning service member with his or her first job, the military will cover up to six months of salary and benefits.
Save an estimated $30,000 (based on a cyber analyst's average comp).
Many possess active Security Clearances and COMPTIA Certifications like A+, Network+, and Security+.
One-time Placement Fee paid in monthy installments after candidate starts working.
7 Eagle Group can be your Employer of Record and provide full benefits and insurance for your contractor.
The employee is on our books, not yours.
GIVING BACK TO OUR HEROES!
For every Veteran you hire at your company, 7 Eagle Group will cover all costs of training another Veteran for a lucrative career in Cyber Security. Recent Success Stories:
Alisha Barraw, a US Army Veteran from TN swapped her low-paying retail job for a six-figure salary career as a Pen Tester.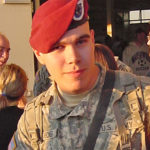 Four months ago, Dustin Derek, a US Army Veteran from OH, was driving trucks.  Now, he's a Cyber Analyst at Cisco Systems earning $72K.
After training P/T for six months with 7 Eagle Group, Josh Koonce, US Army Veteran from TN, landed a Compliance Engineer job.
"7 Eagle presented some really talented Vets for a difficult-to-fill position that was vacant for four months. I loved evaluating the videos intros — made this super easy for our hiring team to select the best ones to interview."
"The military Veterans from 7 Eagle are leaders, hard workers, and know how to overcome obstacles.
I highly recommend 7 Eagle Group -- they deliver great candidates!
Receive our monthly newsletter to get first crack at evaluating Cyber Veterans available for immediate hire. 
Our Mission — Help your company win the war for the best tech talent in your industry.