MAKE A MEANINGFUL DIFFERENCE IN A VETERAN, TRANSITIONING SERVICE MEMBER OR MILITARY SPOUSE'S LIFE
OUR CLIENTS ARE EAGER TO HIRE
MILITARY TALENT!
INSTRUCTIONS: Click the button to your preferred sharing option and copy & paste the text below to your post.
To all my military buddies in the market for a lucrative and rewarding civilian career…you deserve to be happy, well-compensated, and to love what you do every day. Check out the open jobs at 7 Eagle Group — they connect Veterans and transitioning Service Members with companies who value our experience, work ethic, and "can-do" attitudes. www.7Eagle.com
When your buddies apply for a position, they'll be asked who referred them to
7 Eagle Group.
Every time one of your buddies is hired, we'll send a $100 Amazon Gift Card to each of you. We'll also donate $100 to a military-focused non profit organization of your choice.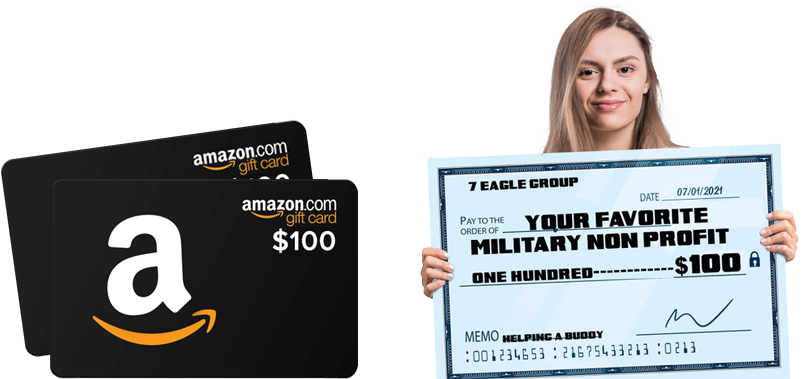 Hiring companies pay us a nominal placement fee after each successful hire who remains employed for at least four months.
Once your buddy reaches his or her 4-month anniversary at the new job, we'll reach out to you to coordinate the delivery of your Amazon Gift Card. We'll also get the name of your favorite military nonprofit organization so we can send the $100 donation in your name.
Gift Cards and the $100 donation are only sent if 7 Eagle Group collects a Placement Fee. Sometimes, clients do not have the budget to pay a recruiting firm. Our mission is "Veterans First" and we never allow our fee to prevent someone from landing a position.