HIGHLY SKILLED MILITARY TALENT FOR JOHNSON CONTROLS
Presented to:
KADE HEWITT
Regional Recruiter
Help Johnson Controls Win the War for Talent
Trusted Recruiting Partner to Hundreds of Great Companies












FILL YOUR OPEN POSITIONS WITH SUPERSTARS
Here are samples presented to other clients:
18% Placement Fee due after the new employee starts.
Pay in installments starting 30 days after the start date to eliminate your financial risk and ensure that the new employee stays long-term and adds enormous value.
CAREER TRANSITION PROGRAM
In exchange for providing a transitioning service member with his or her first job, the military will cover up to six months of salary and benefits.
$11,000 Placement Fee for each Service Member.  Paid in installments starting 30 days

after

start date.
Average hiring company saves $20,000 – $30,000 (based on average Year 1 compensation).
No additional fee if you decide to transition the Candidate to a W2 Employee after the program.
7 Eagle Group can be your Employer of Record and provide full benefits and insurance for your contractor.
The employee is on our books, not yours.
Inquire about the hourly Bill Rate (rates vary depending on the position, location, etc.)
Option to convert to a W2 Employee at any time.
GIVING BACK TO OUR HEROES
For every Veteran you hire at Johnson Controls, 7 Eagle Group will cover all costs of training a Veteran for a lucrative career in tech. Recent success stories:
Alisha Barraw, a US Army Veteran from TN swapped her low-paying retail job for a six-figure salary career as a Pen Tester.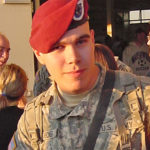 Four months ago, Dustin Derek, a US Army Veteran from OH, was driving trucks. Now he's a cyber Analyst at Cisco Systems earning $72K.
After training P/T for six months with 7 Eagle Group, Josh Koonce, US Army Veteran from TN, landed a Compliance Engineer Job.
"7 Eagle presented some really talented Vets for a difficult-to-fill position that was vacant for four months. I loved evaluating the videos intros — made this super easy for our hiring team to select the best ones to interview."
"The military Veterans from 7 Eagle are leaders, hard workers, and know how to overcome obstacles.
I highly recommend 7 Eagle Group -- they deliver great candidates!
Contact us today or schedule a casual 5-minute conversation to learn more about how 7 Eagle Group can help your company win the war for the best talent.  We value your privacy!